WHEN?

February 16 - February 17, 2022

WHERE?

LIVE, Virtual Event

WHO SHOULD JOIN?

Professionals, parents, & partners supporting complex communicators, birth through five years of age.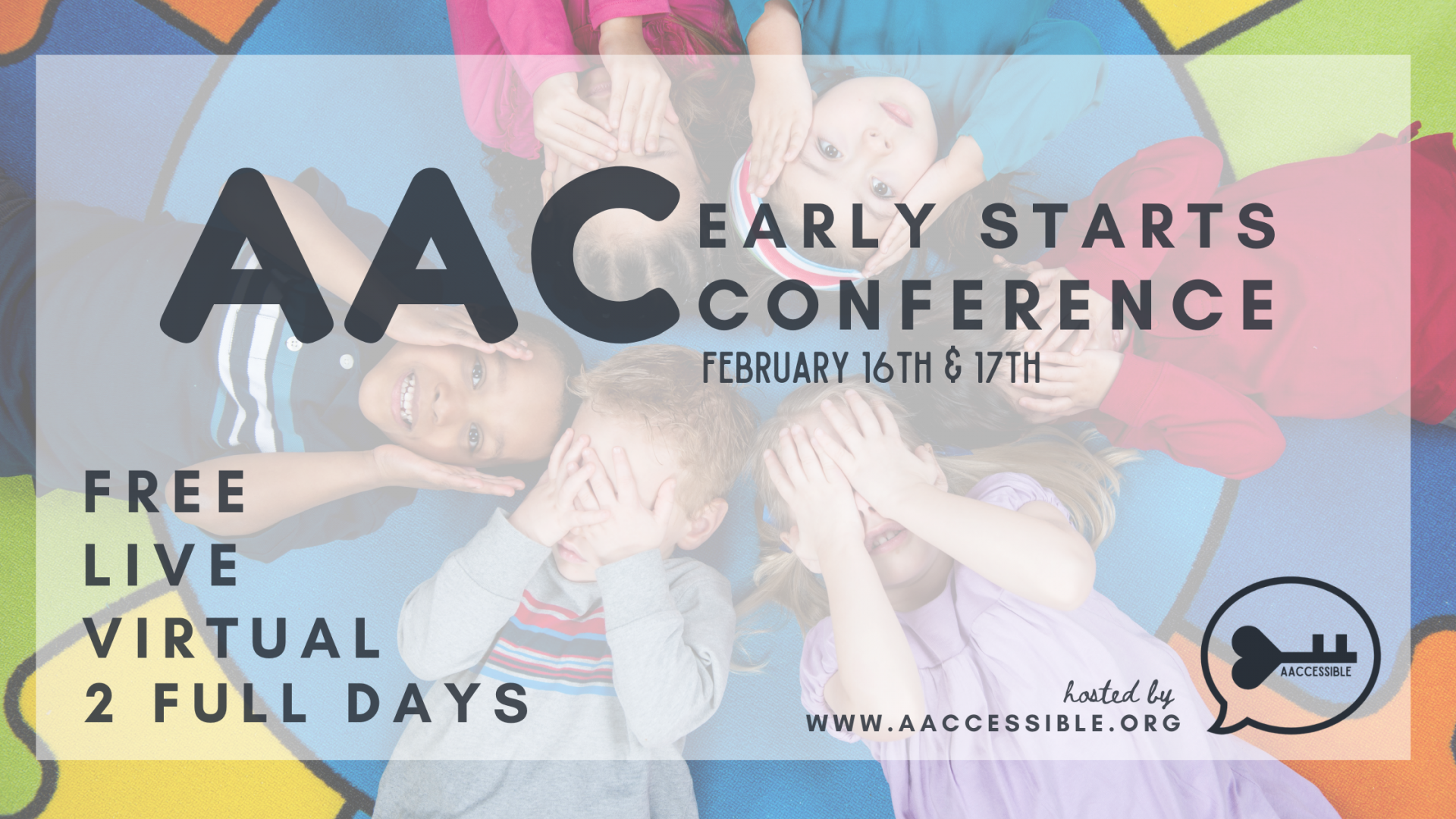 AAC Early Starts Conference
If you are a parent or professional supporting a child five years or younger with complex communication needs, join us to learn and share at this first annual virtual learning event! Two days of live sessions with experts, AAC users, and caregivers sharing their knowledge & experiences!

AACcessible and The AAC Academy by AACcessible are excited to host this first annual AAC Early Starts (AACES) Conference for professionals and families! The mission of this event is to promote awareness of and education on the holistic supports and services needed to maximize early intervention outcomes for children with complex communication needs. This conference will take place entirely online with live learning sessions and keynote speakers spanning two full days. Topics will focus on the unique needs of complex communicators age birth through five years and on the experiences of AAC users and families from this early stage in their AAC Journey. The scope of presentations will cover the whole child, lending knowledge, support, inspiration, and hope across domains of development. Leading experts across the fields of special education, early intervention, rehabilitations, and augmentative communication will join to share their knowledge and skills in this comprehensive, free and live event!
16+ LIVE, expert presenters

Professional & partner topics

Free access to live event

Low cost access to recordings

CMH options available
Holistic & Natural Focus
Learn from professionals across developmental domains and the unique perspectives of families and AAC users as they reflect on the early stages of the AAC Journey.
Better Outcomes
Improve support & service for the youngest complex communicators to secure a brighter future full of hope, joy, possibility and independence.
Call for Papers
Want to present at the AAC Early Starts Conference? The Call for Papers opens September 13th and runs through December 13th. We are looking for professionals across disciplines, AAC users, and caregivers to share their knowledge, skills, & experiences related to early intervention for complex communicators and AAC.

Call for Reviewers
If you are a professional, caregiver, or AAC user who is interested in the field of complex communication, we would love to have you on our peer editing board! Your main role as a peer editor is to review submitted proposals for the conference to help our conference committee assure quality sessions.
Okay, I'm jazzed! But I have a few questions...
Yep! The full two days of the AACES Conference are live. All sessions will be hosted virtually in the course platform at The AAC Academy.
Bummer! I can't attend live. Will sessions be recorded?
Yep! All sessions will be recorded and launched in the course platform after the conference is finished. Although you have free access to the live conference, on-demand access requires purchase.
Those attendees who are interested in certification maintenance hours (CMH) for conference sessions and/or keynotes must purchase on-demand access to be eligible for quizzes and certificates. You can attend the live sessions and complete the quizzes for certificates at your own pace or watch sessions on-demand and complete quizzes and certificates thereafter. Quiz and certificate access for CMH will not be provided to those attendees who do not purchase on-demand access, but you can still watch the sessions live and learn for free! ASHA CEU's will not be hosted or provided for these events. Learn more about the difference between CMH and CEU's
here
.
Are their scholarships for on-demand access?
Yep! All are welcome to attend the live conference for free. If you'd like to be considered for a scholarship or coupon code for on-demand access following the conference, you can email us at
info@aaccessible.org
for more info.
Complimentary or discounted access to on-demand materials will also be offered to conference presenters and volunteers while supplies last.
Find Out Who's Presenting