Did you miss AACES 2022?
No worries! You can watch the sessions from this conference on our course platform! Explore the AACES courses in our catalog and take as many as you'd like form this awesome program! You can even save big when you purchase a conference course bundle!
Got Questions?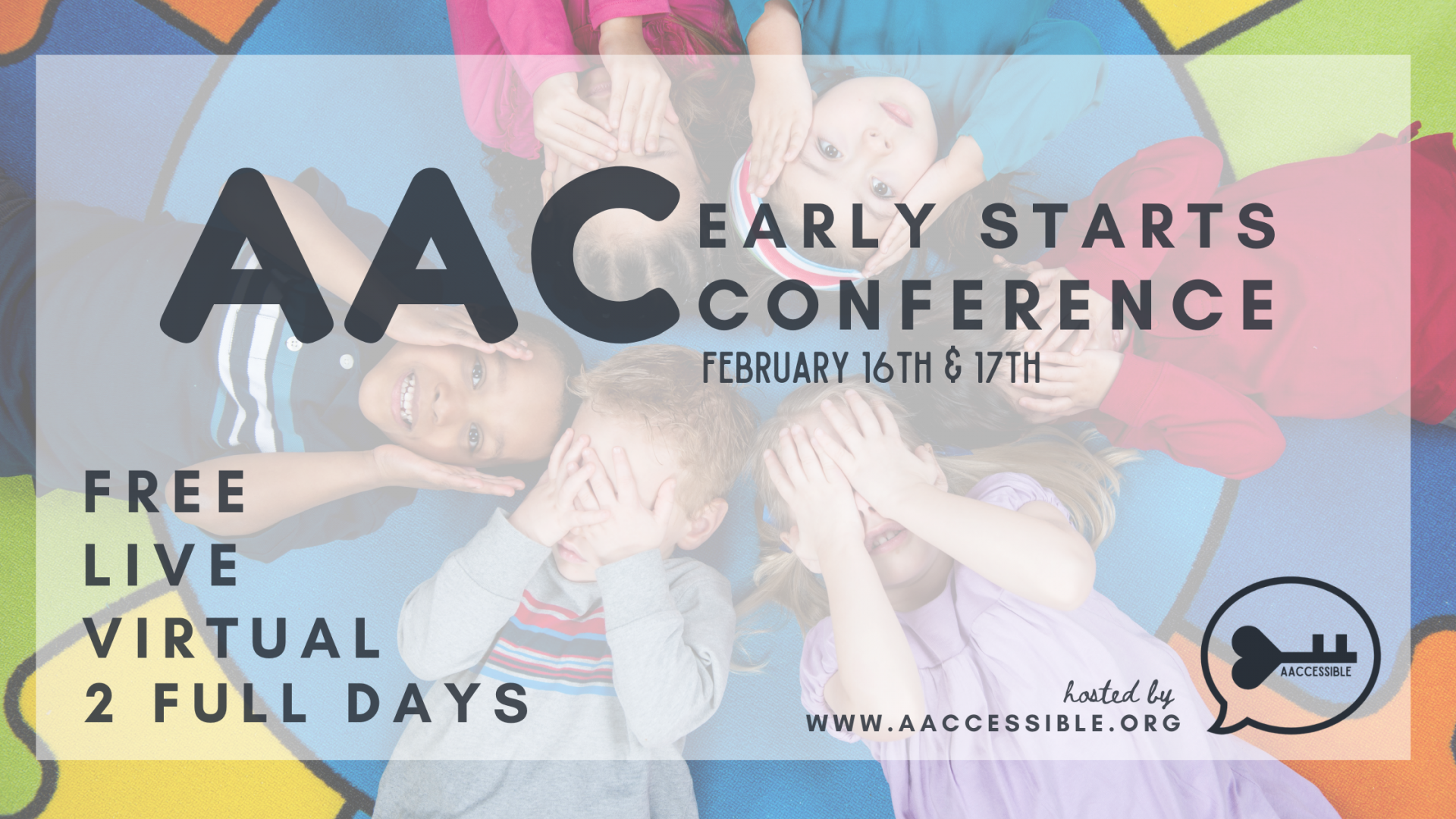 AAC Early Starts Conference
If you are a parent or professional supporting a child five years or younger with complex communication needs, join us to learn and share at this first annual virtual learning event! Two days of live sessions with experts, AAC users, and caregivers sharing their knowledge & experiences!

AACcessible and The AAC Academy by AACcessible are excited to host this first annual AAC Early Starts (AACES) Conference for professionals and families! The mission of this event is to promote awareness of and education on the holistic supports and services needed to maximize early intervention outcomes for children with complex communication needs. This conference will take place entirely online with live learning sessions and keynote speakers spanning two full days. Topics will focus on the unique needs of complex communicators age birth through five years and on the experiences of AAC users and families from this early stage in their AAC Journey. The scope of presentations will cover the whole child, lending knowledge, support, inspiration, and hope across domains of development. Leading experts across the fields of special education, early intervention, rehabilitations, and augmentative communication will join to share their knowledge and skills in this comprehensive, free and live event!
16+ LIVE, expert presenters

Professional & partner topics

Free access to live event

Low cost access to recordings

CMH options available
Holistic & Natural Focus
Learn from professionals across developmental domains and the unique perspectives of families and AAC users as they reflect on the early stages of the AAC Journey.
Better Outcomes
Improve support & service for the youngest complex communicators to secure a brighter future full of hope, joy, possibility and independence.
save with a conference bundle!
AACES 2022 (Full)
Get 12 months of access to every conference session in the AACES Program with this cost-saving bundle!
\Learnworlds\Codeneurons\Pages\ZoneRenderers\CourseCards
bundle by day
AACES 2022 (Day 1)
Not feeling the whole conference? You can bundle your favorites from Day 1 of this two-day conference and still save when compared to enrolling in one course at a time.
\Learnworlds\Codeneurons\Pages\ZoneRenderers\CourseCards
bundle by day
AACES 2022 (Day 2)
Not feeling the whole conference? You can bundle your favorites from Day 2 of this two-day conference and still save when compared to enrolling in one course at a time.
\Learnworlds\Codeneurons\Pages\ZoneRenderers\CourseCards
AACES 2022, a la carte!
If you'd rather just pick certain sessions, we've got you covered! Just find the sessions from the filtered search below or search for one by name to enroll.
\Learnworlds\Codeneurons\Pages\ZoneRenderers\CourseCards
Conference Program
Explore the AACES Conference program, packed full of engaging sessions for everyone! This is a dynamic program that is subject to change, so check back frequently for the most up to date information.

AACES Keynote Lineup
More information on keynote presentations can be found in the
Conference Schedule & Conference Program
Joanna Grace
Inclusion Specialist
February 16th Morning Keynote
The Two Essential Ingredients to a Truly Ambitious & Inclusive Sensory Story
Sensory stories partner concise text with rich and relevant sensory stimulation to create narratives that are accessible for people of all abilities and neurotypes. In this practical seminar Sensory Engagement Specialist Joanna Grace will share with us the two essential ingredients of ambitious and inclusive sensory storytelling. Showing us how simple inexpensive resources chosen with insight and used with creativity can conjure up magical narratives that can include everyone. Joanna will also sign post us to ways in which sensory stories can be used for a wide range of purposes as well as simply shared for the pure fun and enjoyment of being in the story telling space together. With tips about how to resource and share sensory stories in an ambitious and inclusive fashion this seminar will be a must watch for everyone.
Jane Korsten
SLP/ATP
February 16th Afternoon Keynote
QIAT Strategies for Families & Professional Working to Identify Appropriate AT Tools & Strategies
There are many ways to "do it right" when looking for Assistive Technology tools and strategies to support atypical learners. It is important for families and professionals to have a shared vision of how they will work together to support students however, it can be challenging to develop that vision. What are the critical areas of the AT process? Who should do what?
During this session we will explore resources from the Quality Indicators for Assistive Technology, QIAT, (pronounced 'quiet'). Participants will be given the opportunity to explore Quality Indicators for the areas of: Consideration, Assessment, Documentation of AT on the IEP Implementation, Evaluation of Effectiveness, Transition, Administrative Support and AT Professional Development.
Rosemary White
Occupational Therapist
February 16th Morning Keynote
DIR/Floortime: A Relationship Based Approach to Supporting Each Individual Child's Development
This presentation will highlight what we are looking at in the back-and-forth flow of the an interaction. From that perspective, the relationship between the child and the caregiver as key to support shared attention, engagement and the intentionality of the child. Emphasis is on coaching the caregiver in their interaction with the child in the moment, and/or reflecting with video review. Caregivers include parents, therapists, teachers and aides with the goal to bring the DIR® philosophy into their interactions with the child.
Developmental, Individual-Difference, Relationship Based Interdisciplinary Philosophy (DIR/Floortime) was developed by Stanley Greenspan, MD and Serena Wieder, Ph.D. DIR®.
Karanveer Singh
AAC User & Consultant
February 17th Evening Keynote
Unique Perspectives Change the World
Followed by Q & A
Karanveer will share his unique perspective on AAC by describing how AAC made an impact on (and continues to impact) his life. He will make the case for why even the youngest communicators can benefit from AAC, and will speak directly to the challenges many AAC users face when interacting in the world. Karanveer will walk us through his AAV technology journey and share tips for partners hoping to help AAC users achieve their dreams and goals. His talk will end with a question and answer to allow parents, professionals, and others in attendance to benefit from his experience.
Thank you
LessonPix
for being an
AACES
Co-Host!
Okay, I'm jazzed! But I have a few questions...
Yep! The full two days of the AACES Conference are live. All sessions will be hosted virtually in the course platform at The AAC Academy.
Bummer! I can't attend live. Will sessions be recorded?
Yep! All sessions will be recorded and launched in the course platform after the conference is finished. Although you have free access to the live conference, on-demand access requires purchase.
Those attendees who are interested in certification maintenance hours (CMH) for conference sessions and/or keynotes must purchase on-demand access to be eligible for quizzes and certificates. You can attend the live sessions and complete the quizzes for certificates at your own pace or watch sessions on-demand and complete quizzes and certificates thereafter. Quiz and certificate access for CMH will not be provided to those attendees who do not purchase on-demand access, but you can still watch the sessions live and learn for free! ASHA CEU's will not be hosted or provided for these events. Learn more about the difference between CMH and CEU's
here
.
Are their scholarships for on-demand access?
Yep! All are welcome to attend the live conference for free. If you'd like to be considered for a scholarship or coupon code for on-demand access following the conference, you can email us at
[email protected]
for more info.
Complimentary or discounted access to on-demand materials will also be offered to conference presenters and volunteers while supplies last.
How do I join the live sessions?
Check the
conference schedule
to find out at what time and in which classroom your favorite sessions are taking place. You will see a tab in your course player with a link to live sessions for each day (Day 1, Day 2) and each classroom (Classroom 1, Classroom 2).
Check out this screencast to get the scoop on how to navigate the course player, where all the conference action happens!
How to find your live session links screencast
What is the course player all about?
The AAC Academy is a comprehensive, online learning platform that lets you truly experience a rich virtual conference without leaving the platform! Everything you need for the conference - the program, the schedule, the Zoom link, the handouts, and more-can be found in your course player once you are signed in to your AAC Academy account and enrolled in the live AACES conference course. Want to connect with other conference attendees? you can do that in the Learner tab of your player! Want to ask questions or report tech snags? You can do that too, right in our Discuss tab in the course player. We'll post handouts as presenters offer them and more.
Check out this short screen cast to learn more!
All about the AAC Academy course player
On snap! I am not registered! Can I still join?
We have reached our capacity in the live classroom and have closed registration for the live event at this time. However, you can join our waitlist at the link below and we will notify you if space or alternative livestream viewing options become available. You will also be among the first to know when on-demand access packages are posted.
Join the AACES Conference Waitlist
We have asked all speakers to consider providing a handout and will collect and post those as they are available. All handouts received in advance will be posted to the course player in the learning Path as they are received and those shared during the live sessions by the presenter (via link or file upload to chat) will be posted ASAP once shared. Some presenters will not provide a handout but you can access a full transcript of the conference in an on-demand package and can take notes etc.... as you need throughout the conference.