Recordings Available Starting March 1st!
Empty space, drag to resize
Attend the live conference for free! All live registrants receive a discount code to watch the recordings. Recordings will be made available in mid-March with a variety of purchase options.
WHEN?

LIVE AACES CONFERENCE
February 23 - 24, 2023
8:00 AM - 5:00 PM Pacific (PDT) /
11:00 AM - 8:00 PM Eastern (EDT)

WHERE?

LIVE, Virtual Event hosted Via Zoom in the AAC Academy Platform
OR
Via Livestream on our Our YouTube Channel

WHO SHOULD JOIN?

Professionals, parents, & partners supporting complex communicators, birth through five years of age.
Got Questions?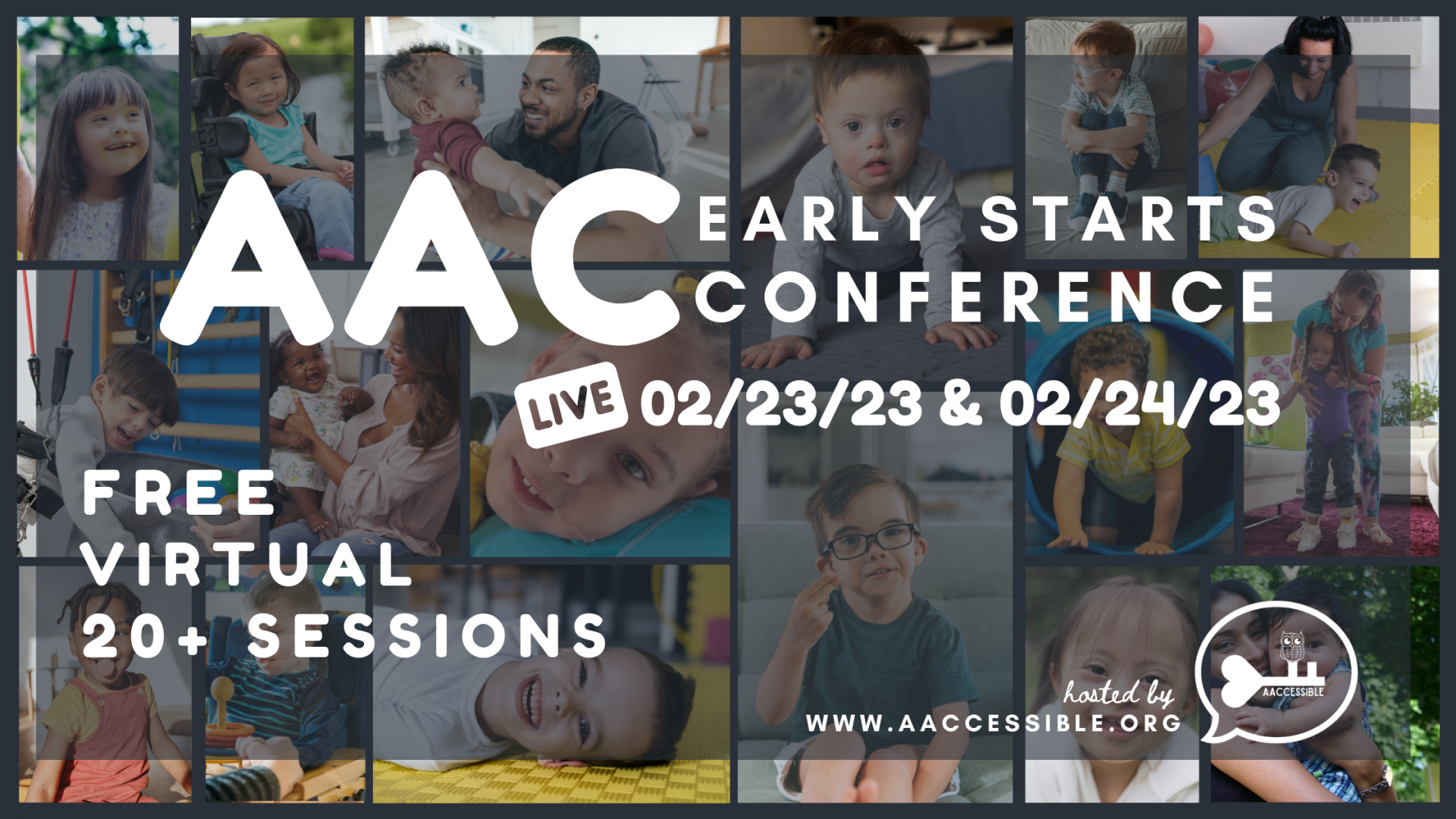 LIVE AAC Early Starts Conference 2023
If you are a parent or professional supporting a child five years or younger with complex communication needs, join us to learn and share at this second annual virtual learning event! Two days of live sessions with experts, AAC users, and caregivers sharing their knowledge & experiences!

AACcessible and The AAC Academy by AACcessible are excited to host this first annual AAC Early Starts (AACES) Conference for professionals and families! The mission of this event is to promote awareness of and education on the holistic supports and services needed to maximize early intervention outcomes for children with complex communication needs. This conference will take place entirely online with live learning sessions and keynote speakers spanning two full days. Topics will focus on the unique needs of complex communicators age birth through five years and on the experiences of AAC users and families from this early stage in their AAC Journey. The scope of presentations will cover the whole child, lending knowledge, support, inspiration, and hope across domains of development. Leading experts across the fields of special education, early intervention, rehabilitations, and augmentative communication will join to share their knowledge and skills in this comprehensive, free and live event!
Want CMH for the live event?
You're in luck! You can watch the live conference sessions for FREE, and purchase recording and CMH certificate access a la carte, or in a bundle!
Empty space, drag to resize
Join Your LIVE Sessions Here!
Empty space, drag to resize
Empty space, drag to resize
20+ LIVE, expert presenters

Professional & partner topics

Free access to live event

Low cost access to recordings

CMH options available with recordings package
Holistic & Natural Focus
Learn from professionals across developmental domains and the unique perspectives of families and AAC users as they reflect on the early stages of the AAC Journey.
Better Outcomes
Improve support & service for the youngest complex communicators to secure a brighter future full of hope, joy, possibility and independence.
2023 AACES Keynote Speakers

We are pleased to partner with these awesome keynote speakers for this year's conference! In addition to these spotlight sessions, you'll find a ton of amazing educational opportunities in our full conference program.
Along with our focus on early intervention, one of the things that makes the AACES conference so unique is our dedication to bringing in a range of perspectives, professional and personal!

Check out a brief summary of our keynote sessions below, and browse the program for full details on all sessions!
Stephanie Fassov

AAC User
Exploring the Communicative Journey, Pitfalls, & Solutions for Early Intervention
LIVE! Friday, 02/24/23
This engaging presentation will give Stephanie the spotlight to share her communicative history, honing in on her Early Intervention journey. She will discuss how cultural messages influence the younger child's sense of self, and how to support these very young children to develop a healthier sense of self. She will also explain the common pitfalls that speech-language pathologists and other support systems need to be mindful of, and will offer several solutions to such pitfalls.
Dr. Julie Feuerstein, SLP & Dr. Jennifer Tucker, PT
An Interprofessional Approach to Promoting Participation & Play for Young Children with Complex Communication & Motor Needs (CCMN)
LIVE! Thursday, 02/23/23
This collaborative session will focus on sharing interdisciplinary strategies for integrating motor and communication supports within enriched play experiences for children with CCMN, bringing together the perspectives and skills of a wide range of professionals to support the whole child and their caregivers.



Karen Kangas
OT, AT Specialist
Play, Mobility, & Access to Activity:
Supporting the Development of Augmentative Communication in the Very Young Child
LIVE! Friday, 02/24/23
This in-depth session will explore the how and why of supporting a young child's ability to participate and "engage" in real activities to build long-lasting, and effective communication skills. Karen will bring decades of real-world experience to help professionals and caregivers learn the knowledge and skills needed to prioritize and improve play and learning access alongside augmentative communication.



Conference Program
Explore the AACES Conference program, packed full of engaging sessions for everyone! This is a dynamic program that is subject to change, so check back frequently for the most up to date information.

The 2023 Conference Program will be posted soon!
Empty space, drag to resize
Conference Schedule
We have two full days of learning laid our for you here on the conference schedule! Portions of the schedule offer concurrent sessions (Classroom 1, Classroom 2)-it might be hard to choose! This is a dynamic schedule that is subject to change, so check back frequently for the most up to date information.


Empty space, drag to resize
Sponsor Shout Outs!
Many thanks to our generous sponsors! We couldn't keep costs and prices low (or free!( without your amazing support! Take a moment to visit the following sponsor pages to learn more about these effective solutions for early learners. Don't forget that each sponsor will also host a tech check and giveaway session during the conference! Check the program and schedule for details.
Empty space, drag to resize
Conference Co-Host
Empty space, drag to resize

Empty space, drag to resize
Lessonpix
Custom Materials
Simple and Affordable
Your Quality Online Resource for
Learning, Communication, and Behavior

Empty space, drag to resize
Conference Co-Host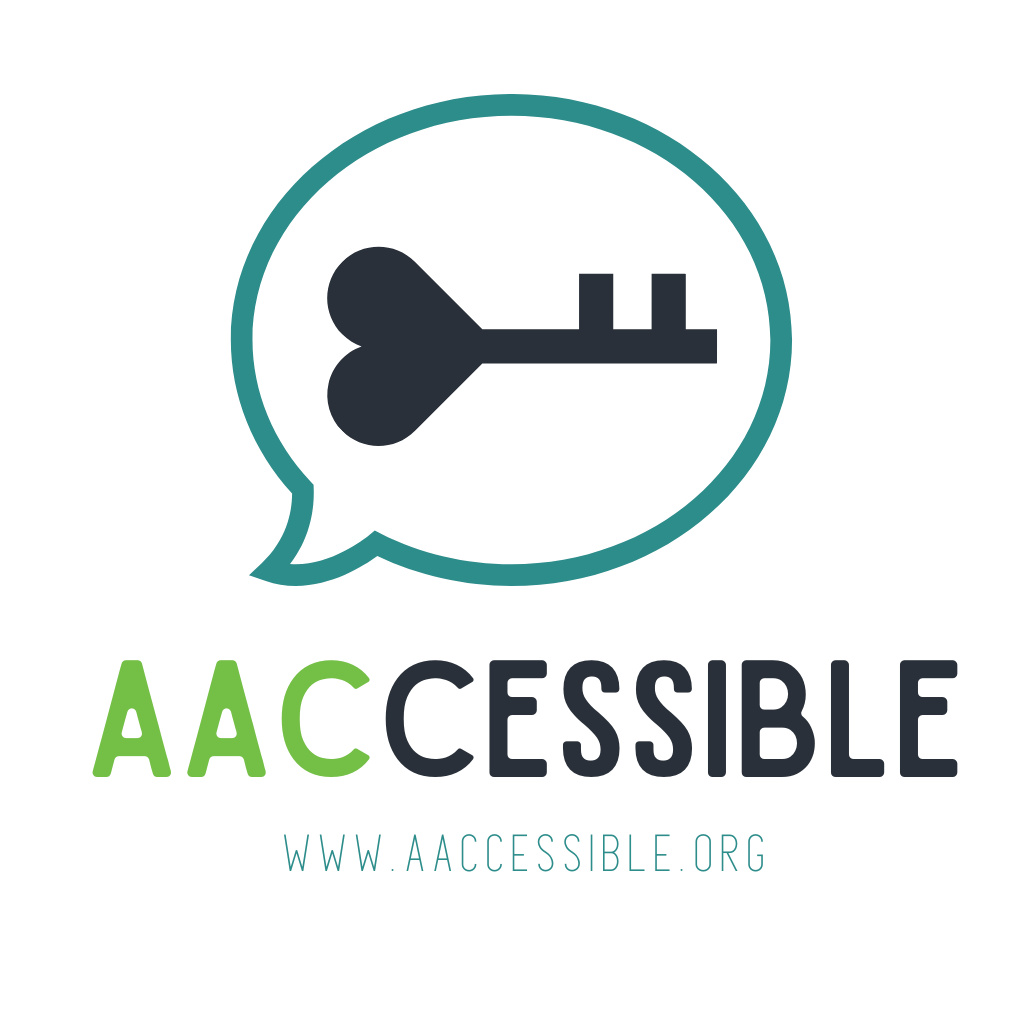 AACcessible
Get the keys to AAC with mission driven tools, training, and community resources! Get the keys to AAC with mission driven tools, training, and community resources!
Empty space, drag to resize
Tech-Check Sponsor
Empty space, drag to resize
AssistiveWare
We build AAC apps and share best practices to help you communicate with the world.
AssistiveWare is happy to support early access to AAC for families and professionals! Join our Friday mini-session where we will look at our newest AAC solutions: Proloquo & Proloquo Coach. The AAC learner is at the center of everything we do. Join us as we take a look at these revolutionary apps and how Proloquo supports language growth!
Empty space, drag to resize
Giveaway Sponsor
Empty space, drag to resize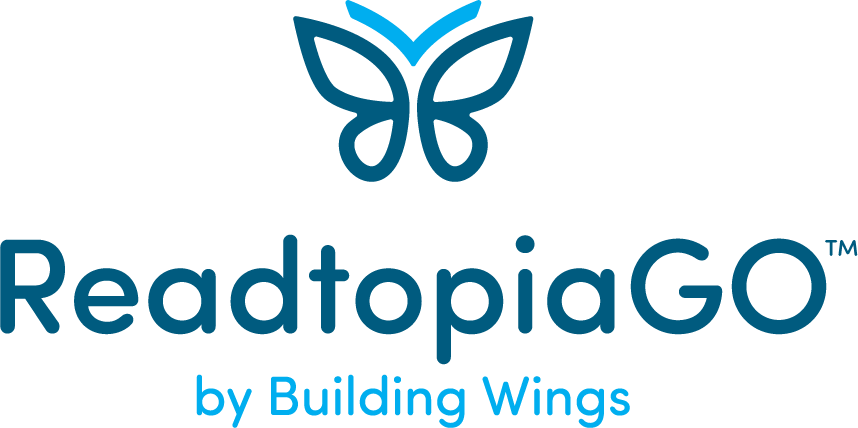 Building Wings
Is this copy from the website ok to use as a short description?
ReadtopiaGO™ by Building Wings is a comprehensive early literacy curriculum for emergent learners, Pre-K to Grade 2, designed to help get our youngest students on the road to literacy. Drawn from Erickson & Koppenhaver's Comprehensive Literacy for All: Teaching Students with Significant Disabilities to Read and Write (2019), ReadtopiaGO provides educators with all the books, activities, and instructional guidance they need to deliver four years of age-appropriate, engaging, and evidence-based literacy instruction.
Empty space, drag to resize
Okay, I'm jazzed! But I have a few questions...
Yep! The full two days of the AACES Conference are live. All sessions will be hosted virtually in the course platform at The AAC Academy.
Bummer! I can't attend live. Will sessions be recorded?
Yep! All sessions will be recorded and launched in the course platform after the conference is finished. Although you have free access to the live conference, on-demand access requires purchase.
Those attendees who are interested in certification maintenance hours (CMH) for conference sessions must purchase an on-demand option to access quizzes and be eligible for CMH certificates. You can attend the live sessions and complete the quizzes for certificates after each live session, or watch session recordings and complete quizzes for certificates at your own pace. Quiz and certificate access for CMH will not be provided to those attendees who do not purchase an on-demand access option, but you can still watch the sessions live and learn for free! ASHA CEU's will not be hosted or provided for these events. Learn more about the difference between CMH and CEU's
here
.
Are their scholarships for on-demand access?
Yep! All are welcome to attend the live conference for free. If you'd like to be considered for a scholarship or coupon code for on-demand access following the conference, you can email us at
[email protected]
for more info.
Complimentary or discounted access to on-demand materials will also be offered to conference presenters and volunteers while supplies last.
How do I join the live sessions?
Know the Day & Classroom - Check the conference schedule to find out at what time and in which classroom your favorite sessions are taking place.
Sign in to your AAC Academy Account - You must be enrolled in the conference (free to register) and be signed into the account under which you enrolled.
Tap Start - Once you are signed in, you can access the conference course player by clicking on the "Start" link at the top of the website.
Open the Course Player - Find the conference course card in your course listing and click on it. This will open your conference course player.
Find Your Live Session Link - You will see a tab in your course player with a link to live sessions for each day (Day 1, Day 2) and each classroom (Classroom 1, Classroom 2). To join the session, click on that tab. If you have trouble viewing the live session from the tab directly, you can choose to "Join via URL" which will open the session using your Zoom app.
Watch a Video
What is the course player all about?
The AAC Academy is a comprehensive, online learning platform that lets you truly experience a rich virtual conference without leaving the platform! Everything you need for the conference - the program, the schedule, the Zoom link, the handouts, and more-can be found in your course player once you are signed in to your AAC Academy account and enrolled in the live AACES conference course. Want to connect with other conference attendees? you can do that in the Learner tab of your player! Want to ask questions or report tech snags? You can do that too, right in our Discuss tab in the course player. We'll post handouts as presenters offer them and more. If you want CMH opportunities, you'll also find that in your course player.
Watch a Video
We have asked all speakers to consider providing a handout and will collect and post those as they are available. All handouts received in advance will be posted to the course player in the learning Path as they are received and those shared during the live sessions by the presenter (via link or file upload to chat) will be posted ASAP once shared. Some presenters will not provide a handout but you can access a full transcript of the conference in an on-demand package and can take notes etc.... as you need throughout the conference.
Empty space, drag to resize