AAC Assessment Compass Series
THE SCOOP
AAC Assessment Compass
This 4 part course for all skill levels will provide you with a step-by-step framework for making practical and evidence-based AAC system and strategy decisions for your students. If you are a communication professional working with students who have limited or no verbal communication skills, this is the map you've been looking for! You will learn how to adjust your traditional communication assessment for the unique needs of complex communicators and how to use that data to match skills and needs to features and features to AAC tools. You will also learn how to set up and execute AAC system trials and how to document your thorough observations to assist families in obtaining appropriate AAC technology. This is a truly comprehensive course with a logical framework designed to help the everyday SLP tackle those students showing up at her doorstep when the "AAC expert" is no where to be found! Whether you are hoping to add to your assessment skill repertoire or get started with the basics of AAC assessment, this training series, along with quality mentoring from professionals who have "been around the block" is a great start to your learning journey!
4 Modules

Participate On-Demand

CMH, Certificate Provided

Multimedia learning experience

Online classroom community

Loads of resources!
Learn how to assess communication, AAC Style!
You've got this, SLP! You learned all about communication in grad school and now you need to learn how to add to that toolbox for complex communicators and how to build your village!
A better tech fit leads to better outcomes.
Reduce the chances of device abandonment or stalled skills when you have the knowledge you need to support the best tech fit for your communicators.
Learning Objectives
Hang in for the whole series and you'll tackle the following:


Session 1: Communication Assessment & Access Screening
Utilize a communicative independence framework (The "AAC Journey Framework") to guide AAC assessment planning and execution.
Identify at least three assessment strategies to assist in intervention planning and AAC feature matching for complex communicators in the earliest stages of communication development.
Define and describe at least three core assessment areas essential to effective feature matching for complex communicators with varying abilities.
Develop and execute an effective communication assessment plan to inform the next steps in the AAC assessment process (Feature Matching, System Design, and Trial).
Identify resources for further development of functional communication and access screening skills.
Session 2: AAC Features & Feature Matching
Utilize an AAC assessment framework (The "AAC Compass Framework") to guide your AAC assessment from functional communication to feature matching.
Identify and describe core AAC features available in no tech, light tech, and high tech AAC tools on the market.
Make connections between communication skills and needs and AAC system features to select systems for trial (the AAC Featuring Matching process).
Apply prior learning about communication skills and needs and features in a case exploration assignment to further ability to apply concepts to practical problems.
Identify resources for further knowledge of AAC features and current AAC tools and strategies to enhance feature matching skills.
Session 3: AAC System Design
Utilize an AAC assessment and intervention framework (The "AAC Compass Framework") to guide your AAC assessment from feature matching to system selection.
Identify at least three vocabulary selection strategies to support communicative growth for AAC users at the earliest stages of communication development.
Identify and describe essential considerations for effective language arrangement to support the unique needs of AAC users at different stages of communication development.
Identify at least three customization areas to consider for communicators with vision or motor limitations.
Identify resources for ongoing development of AAC customization skills.
Session 4: AAC System Trials & Next Steps
Utilize an AAC assessment framework (The "AAC Compass Framework") to guide your AAC assessment from AAC System Design to AAC System Trial and beyond.
Establish and execute an effective plan for system trial with core, evidence-based AAC practices at the center.
Demonstrate understanding of family-centered strategies to support final system recommendations.
Identify resources to support report writing, data management, and system funding.
Identify resources to continue development of AAC intervention skills.
Continuing Education Credit
This series offers eligible students a total of
12 certification maintenance hours (CMH)


Learn more about CMH/PDH (versus CEU's or continuing education units) on your course syllabus and on our CEU Page. All learners are encouraged to confirm that this course meets the requirements of their licensing board before purchasing.
Meet the instructor
Tannalynn Neufeld
I am a WA state licensed and ASHA certified speech-language pathologist with over 15 years of clinical experience supporting children who are learning to communicate with the support of AAC and their families. Alongside ongoing clinical practice with AAC assessment and intervention as a private consultant, I have dedicated the latter years of my career to helping other professionals empower themselves with the knowledge and skills they need to support children who use AAC as a mentor. In my main role as an assistant teaching professor at a major university in Washington, I support graduate students in developing their pre-service background in AAC as lead instructor for the AAC Foundations course. I am looking forward to working with each of you on your AAC Journey!
Learn more about Tanna
here
.
Empty space, drag to resize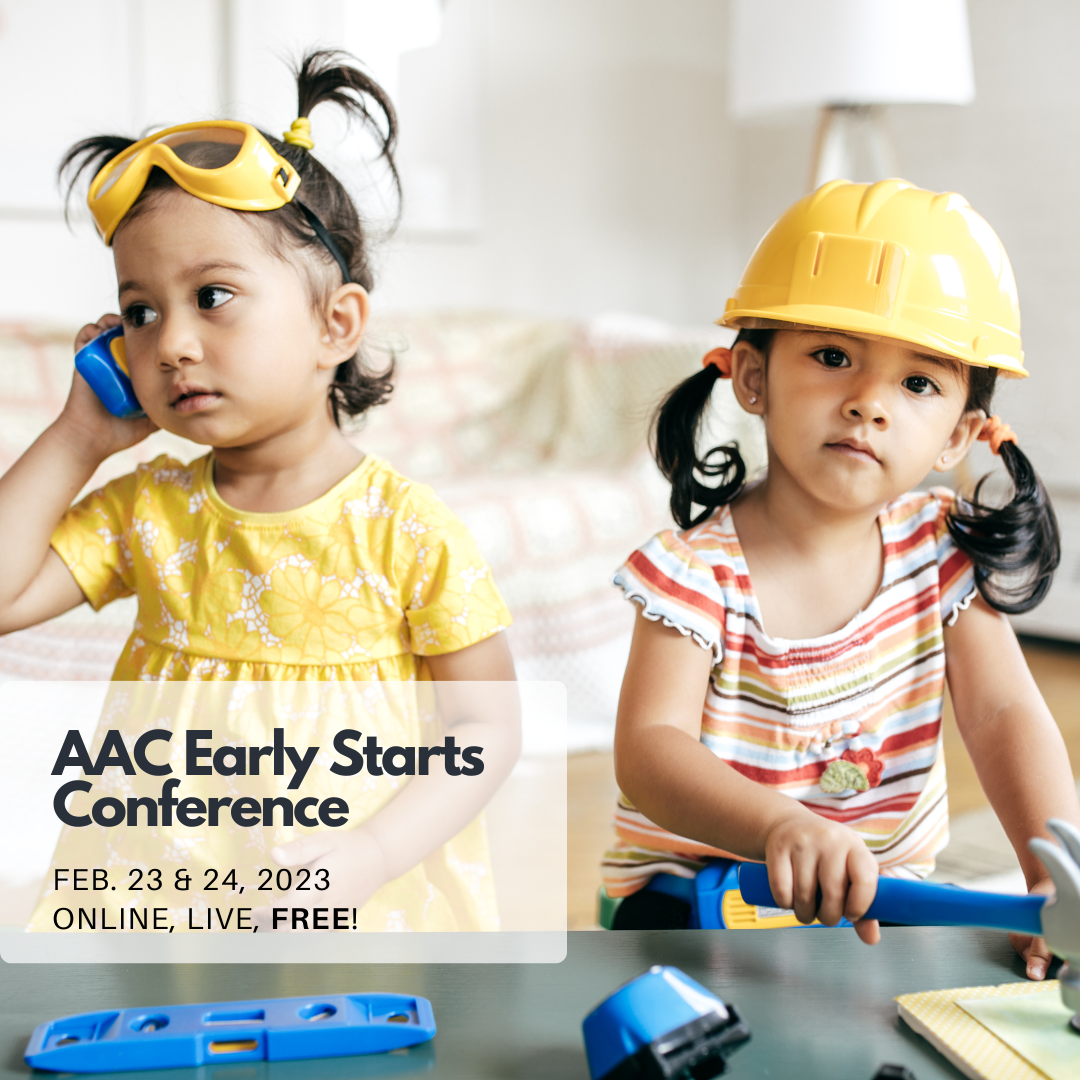 Too Good to Be Free!
We worked hard to build another great AACES conference for you this year, and yes, it's free again! Attend two full days of early intervention learning at this one-of-a-kind online conference.
Empty space, drag to resize